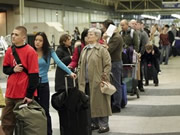 One of the most frustrating things about travelling is that occasionally you will be faced with delays. Airport delays are common, though the majority of such delays are usually minor, adding perhaps an additional hour or two to your travel time. Long delays, however infrequent, are the real problem, as they are usually a reflection of a wider systemic issue. Long delays usually effect more than one plane, and can have severe knock-on effects for later flights, connections and even baggage forwarding. It's important that travellers understand why such long delays occur, as a bit of foresight may help travellers to avoid delays altogether or at the very least make the most out of a bad situation.
When you are planning your holiday, you don't often think to factor in the potential for delays. After all, in most cases flights and connections run smoothly. It does pay to be covered in the event of a delay, however, so that should such an event occur you are not left stranded, out of pocket, or with no way of getting home. Investing in good travel insurance is one way to combat the issues caused by delays, as is travelling with large, respected airlines. Although smaller or low-budget airlines offer much cheaper tickets, they tend to be less inclined to help passengers during delays. The best advice is to be prepared, to be patient, and to remain calm - after all, most delays occur because passenger safety is placed at a premium, not because the airlines have forgotten to pay their bills!
When delayed an Airport Lounge is often the most relaxing option to pass a couple of hours. Enjoy free drinks, snacks and magazines whilst relaxing in a quiet environment and spaces are available from only £12.99.