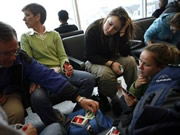 Although it is not always offered, one of the ways airlines and airports try to combat customer dissatisfaction as a result of airport delays is to provide temporary accommodation. Such accommodation is usually at a nearby hotel, and is organized by the airport or airline staff on behalf of the passengers. Depending on the scale of the delay (a single plane-load or an entire airport full of people), the accommodation may be limited to families, the elderly, or the infirm. In other instances, the airline or airport may offer to reimburse passengers for any accommodation costs they incur as a result of the delay, providing the passengers pay upfront for the accommodation and retain receipts. In very extreme circumstances, the airport may be forced to provide temporary shelter within the airport itself (such as if there was especially bad weather). It pays to be aware of your rights as a passenger and to maintain a dialogue with the airport staff - they are the ones that will organize and inform you of the available accommodation.
Another factor to keep in mind is that even if the airport or airline do not offer temporary accommodation, your travel insurance may cover the costs of a room (or rooms) for multiple nights if necessary. It does of course depend on the level of cover you have purchased, and the insurer may place conditions on the reimbursement (you may need to stay at a specific hotel chain, the delay may need to be a certain length of time, and so on), so it is recommended that you make a quick call to your insurance provider before you book any rooms.

The airport hotels are often booked by passengers traveling on early flights as an easy option to start their travel or for those returning late at night wanting to get a good nights rest before finishing their travel. The larger airports such as Gatwick and Heathrow offer a large range of hotels, the Gatwick Hilton hotel even offers accommodation linked to the terminal building for the most convenient service.